Child Check-In/Check-Out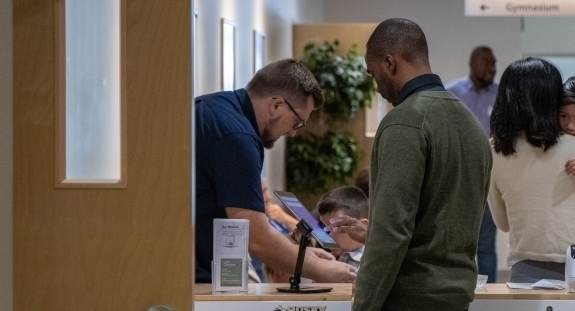 Your child is a precious gift from God and we know that you care very much about your child's safety…and so do we! As a Children's Ministry, we want to allow parents to enjoy their programs knowing that their child is being well looked after. One of the biggest ways we ensure your child's safety is with our Check-In/Check-Out procedures.
First time? Don't worry!
When you arrive, head over to our check-in computers located by the nursery. Feel free to ask our volunteers if you have any questions! We promise, they're really nice!
Once you fill out all the necessary information, the computer will print out a sticker with your child's name on it (one for each child if you have 2+), and a unique code for each child. This one goes on your child somewhere visible. It will also print out a sticker with all your children listed – this one is YOURS! PLEASE hold onto it. We match the code on your child's sticker to the one in your hand to ensure that each child goes home with the correct adult. If you do not have your Parent Tag on hand, our volunteers will ask that you retrieve it.
If our volunteers should need to get a hold of you for any reason, they will have your child's unique code put up on the screen in the sanctuary. Please be watching for this, as it means your child needs you! This could be for any number of reasons. As soon as you see your child's number on the screen, please head immediately to their classroom.
---