Fellowship

Our Purpose
Our objectives are to have our church become the loving family of God that He desires and to joyfully serve our Lord and Savior through the CBC family. We endeavor to connect, support and facilitate a common ground of fellowship environment where we can build one another up in the grace and knowledge of our Lord Jesus.
Ministry Description
The fellowship team is involved in planning, organizing and implementing social functions within the church. Also, we support one another and strive to be a beacon of love that shines through our unwavering desire to serve our Lord through the fellowship ministry social activities.

Some of the functions we have organized so far include: Connection Café following the service, Valentine couples function, Church family picnic and a variety of Breakfasts, Lunches, Dinners and socials.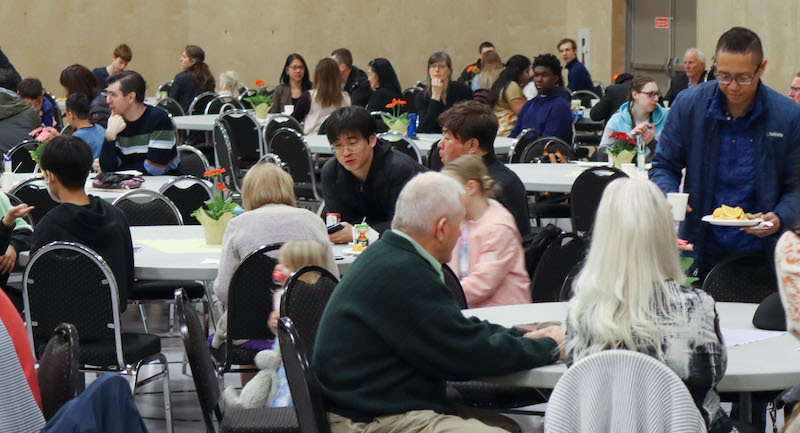 Church Fellowship Lunches
A church-wide fellowship event for all ages. Every month we invite a different group of volunteers to serve lunch at the gym after service. Let's come together and catch up with folks around meals. Guests and visitors are welcome to join. Gluten-free options and kid's meals are available. Here are the dates for the upcoming lunches:
November 27 2022
January 8, 2023
How to participate?
1. Go to the ticket station and grab your ticket(s)
2. Exchange the ticket for your meal
3. Find a seat and enjoy the fellowship!



Opportunities for Serving
Profile - Gifting
Our work is service-oriented, and sacrificial (come early to set up, or stay late to clean up).
Have a love for serving and hosting others.
Ability to spot and welcome new comers and lonely people.
Willing to help where needed (kitchen, set up, etc).
Have good organizational and time management skills.
Love shopping or at least able to tolerate it at times/when needed.
Useful Spiritual gifts are:
Any ministry will never accomplish what the Lord planned for it unless there are people on bended knees praying for it and that is our desire to have prayer warriors as team members. Other spiritual gifts would include hospitable, having a servant heart, have a love for God's people and able to forgive and overlook other people's short comings.
Prerequisites & Qualifications:
The prime requirement is to love others and be willing to serve.
Have a contagious smile and a godly attitude.
Preferably a member at CBC; however if regularly attends that is fine.
All members of a family are welcome to serve. We believe that each of us regardless of our age has something to contribute.
Expectations & Time Requirements:
Able to attend and be actively involved in fellowship team meetings and activities (meetings 2-4 / year; activities 2-4 / year).
Punctual and dependable.
Willing to invest some of your time for the Lord (it varies depending on the week/month; roughly between 1-2 hours/week and 3-6 hours/ month if we have a function). These hours are estimates and maybe more or less.