Fellowship

Our Purpose
At Cloverdale Baptist Church, our Fellowship Ministry serves all individuals wanting both a closer relationship with Jesus Christ and fellow believers. Our ministry team plans and facilitates functions that encourage connection, community, and care for one another. Our hope is that the church is firmly rooted in the biblical principles laid out in Acts 2:42 in which the early church exemplified the essence of Christian community. With this essential biblical framework, we are committed to cultivating a vibrant fellowship that reflects the early church's devotion, unity, learning, and prayer.
Vison Statement
What the future looks like.
We desire to encourage a dynamic and growing community of faith that embodies the transformative power of the "one another" statements found in the Bible. Inspired by these timeless principles, we seek to be a church where love, compassion, and unity are the hallmarks of our relationships therefore impacting lives within the congregation and beyond.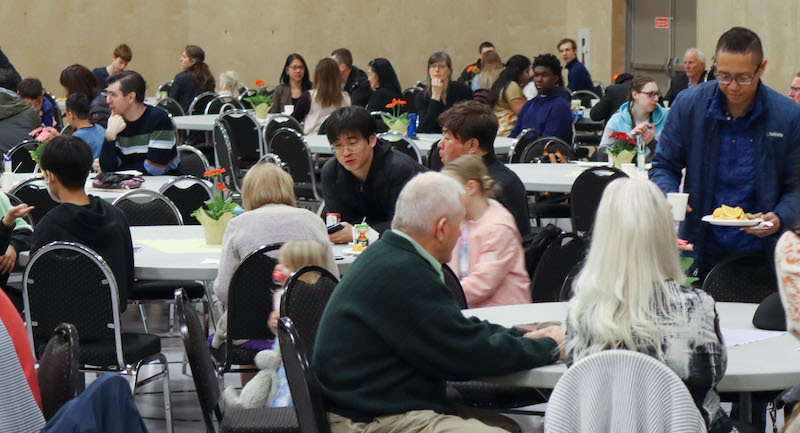 Love one another / John 13:34-35
Build one another / 1 Thessalonians 5:11
Bear with one another / Galatians 6:2
Forgive one another / Colossians 3:13
Serve one another / Galatians 5:13
Honour to one another / Romans 12:10
Pray for one another / James 5: 13-16
Teaching and admonishing one another / Colossians 3:16
Submit to one another / Ephesians 5:20-21
Encourage one another / 1 Thessalonians: 5:14
Greet one another / 1 Peter 5:14



Opportunities for Serving
Spiritual Gifts
All ministry members should have an active relationship with the Lord and exhibit strengths in several of the fruits of the spirit as outlined in (Galatians 5:22-23). Furthermore, members should have a desire to serve, contribute generously, rejoice in hope, show hospitality without grumbling and be in constant prayer for the church and the Fellowship Ministry. (Romans 12: 6-13 & 1 Peter 4: 9-10)
Qualifications
The prime requirement is to love others and be willing to serve.
Preferably a member at CBC; however, regular attendance is fine.
All members of a family are welcome to serve. We believe that each of us regardless of our age has something to contribute.
Expectations
Able to attend and be actively involved in fellowship team meetings and activities: meetings 3-4 year / activities 2-4 year.
Punctual and dependable.
Time commitments: average of 1-2 hours/month on Sunday mornings. Some flexibility required depending on event.
Enjoy serving and hosting others.
Willingness to help with planning and running events.
Fellowship Café
On Sunday mornings, the Fellowship Café runs after Sunday school and after the church service. The Fellowship Café is an opportunity to gather with the body of Christ to enjoy refreshments (coffee, tea, and snacks) and strengthen one another through conversations, prayer, and Biblical encouragement. We aim to spur one another on towards love and good deeds (Hebrews 10:24). It is also a time to welcome new people and connect them with both CBC families and ministries.
Care Team
Our care team are inter-generational individuals who focus on extending conversation, compassion, prayer and meaningful connections. Our care team engages people before and after the service who are not connected with others and ensures they feel welcomed and belong.
Fellowship Events
Throughout the year, specific events will be planned to continue to support the fellowship ministry's focus of connection, community, and care for one another. Each event will have a devotional time to help focus our hearts and minds on an aspect of true, Biblical fellowship. Activities planned will have a food aspect (meal or dessert), activity to bring us together and help us get to know one another in a new way, and opportunities for conversations, prayer, and Biblical encouragement. It is our hope that through yearlong opportunities to invest in one another, we will begin and continue to build relationships that support an Acts 2:42 mindset.